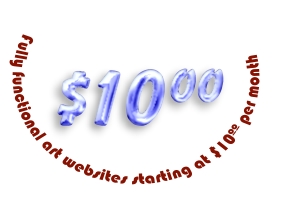 Marketing Your Artwork
Art marketing requires getting your art in front of current and potential customers. Internet-Art-Marketing provides you with an effective and unique way to do just that! We present your artworks through your own website, created by our system, as well as targeted on-line art catalog sites that we have designed and tailored to feature your type of art.
With our system, you will reach target audiences for your work. And we take care of all the details of getting your work out to the web and into search engines where it will easily be found!
Our revolutionary marketing service allows you to easily maintain your web-site through an Internet browser. No need to pay someone else to modify your web-site. Our system allows you to see instantly which of your artworks visitors are viewing.
What You Need
All you need is access to a scanner or digital camera to capture images of your work. The simplicity of getting your work shown will amaze you. Yet we allow plenty of room for the user with web skills to create complex sites with our service.
If you already have a web presence, our service can help you to simplify or enhance it! Whether you are a budding professional or a large gallery we can help you market art!
Start Now!
Click on the "Sign Me Up" button to get started.